.
How It Works
Live911 provides officers with more data to make better informed decisions, respond quicker, de-escalate dangerous situations, and save lives
Then:
While 911 call takers are very fast in their ability to obtain information from callers, there is always a time lapse from when a 911 call is answered, details are typed and entered into the CAD, the dispatcher sends info to radio operator, it is read, airtime becomes clear, and the call for service is broadcast. This process can take 90 seconds to two minutes before an officer even becomes aware of a critical situation.
Now:
When a 911 call comes in, Live911 sends it out simultaneously to first responders in the field.
When a call is urgent, and they are free to assist, officers can see the location of the caller on a map and move in the direction of the incident – giving them a head start and allowing them to develop a response plan while driving to a call. All the while, first responders are hearing the interactions between the caller and the call taker, including answers to questions, first-hand descriptions, emotional tones and background noise on the scene.
Live911 improves response times and increases situational awareness like never before.
Geofencing capabilities allow patrol to filter and hear only livestreaming emergency calls within their designated area.
HigherGround partners with RapidSOS to determine the GPS location and map view of incoming calls. The integration allows Live911 to provide first responders with the precise location and any profile information associated with the caller and gives dispatchers an overview of their officers' locations in relation to the 911 caller.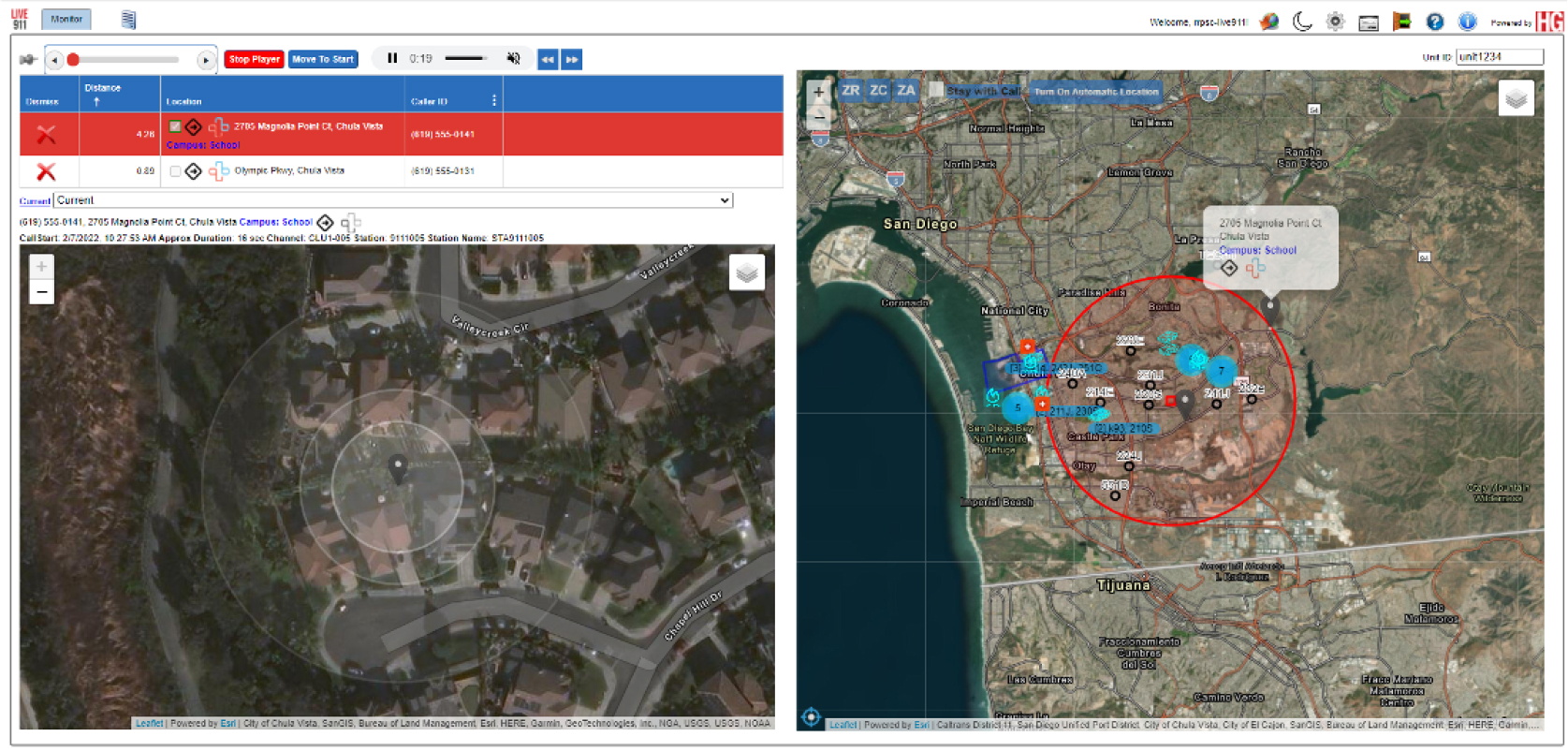 Agencies can establish a geofence around schools and government buildings to help safeguard students and community leaders.
Live911 livestreams calls that come from inside or near the campus to all officers within a pre-determined radius. The calls are designated as priority calls and will override a system that has been placed on mute.
Keep talking, help is on the way and First Responders are listening
With Live911, First Responders can:
Listen to calls in real time

Suspend streaming

Dismiss calls

Rewind live audio

Ask for more details via radio

See location of other officers
First-ever technology
There is no faster way to have immediate situational awareness on an incident than to hear the actual 911 call in real time. Short of being there, how else could you get information sooner? Live911 allows first responders to hear the 911 calls as they occur. This capability has never been possible before.
Imagine the value of hearing the sense of urgency and all of the other small, but critical, details that often are not entered into CAD by the 911 call taker. Now, officers can move toward emergencies immediately, hear live updates, identify precise location of the caller, and be on the scene faster – possibly before the call is even dispatched.
Ready to get started? It's as easy as 1-2-3.
1
Contact Us to schedule a demo and discuss your agency needs.
2
A team of public safety professionals with decades of experience will detail technical requirements, provide installation support, and train your employees.
3
If you would like, our communications staff will promote your agency's use of the technology and share your success stories to local and trade media.
Powered by HigherGround
HigherGround develops solution-based software that captures, stores, and retrieves telecommunications and radio data from interactions throughout an organization. The user-friendly applications allow quick access to recordings, reporting, and analytics, enabling reduced search time, rapid incident reconstruction, efficient quality auditing, and trend analysis.
HigherGround's recording and incident reconstruction solution is the innovation leader in public safety has
been deployed in thousands of organizations across the United States. HigherGround's Live911 software
is the industry's first technology to securely livestream 911 emergency calls directly to officers in the field and provide precise GPS map location of the caller.
United States Patent No. 11,206,327
Australia Patent No. 2020382517
Canada Patent No. 3,156,945
Mexico Patent No. 399784
New Zealand Patent No. 788400